-

₹

9,554.00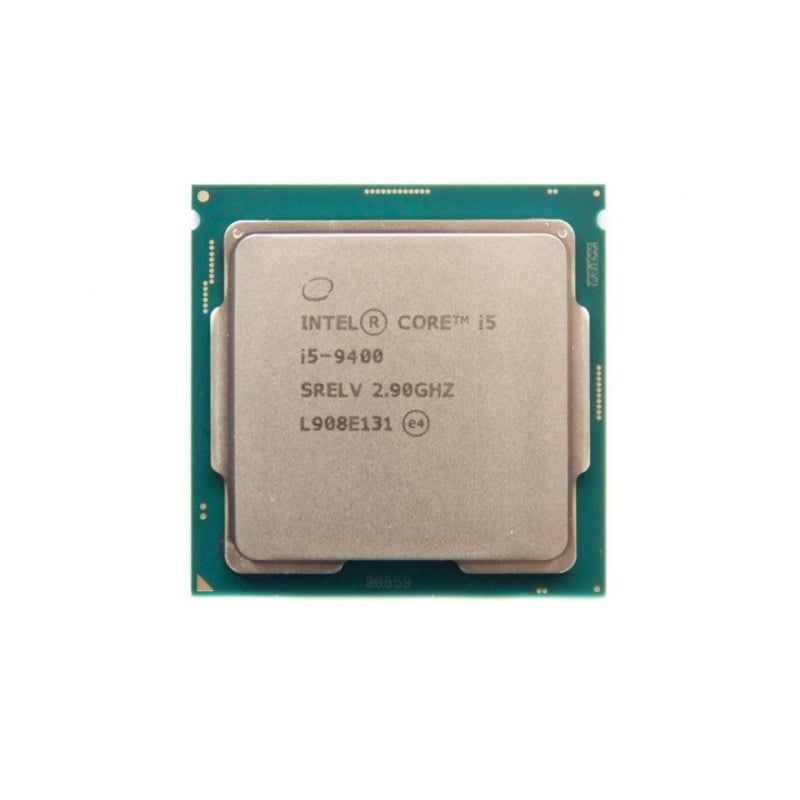 Intel Core i5-9400 Processor 9th Generation LGA1151 CPU
Free Shipping and Replacements, Easy Returns Within 10 Days.

Cash On Delivery [COD/POD] Options Available Across India.

Intel Core i5-9400 (Coffee lake) 2.9 GHz CPU Turbo boost Up to 4.1 GHz

Enhanced Intel Speed-step Technology Intel EM64T Intel Virtualization Technology

9 MB Intel Smart cache, Socket 1151 V2  HEXA Core (6 Core / 6 Threads) 65W TDP Processor.

Compatible with Intel 300 Series LGA 1151 V2 motherboards [ H310, H370, Q370, Z370, B360, B365, Z390 ]
Note: This is 100% Working & Tested Processor Comes in Simple packaging with 1 Year Warranty.
Please Chat with us / Email Support or Message us at our Facebook/ Instagram page if you have any questions, query or concern.
CONDITION: NEW [1 Year Warranty]
Description
Intel Core i5-9400 Processor 9th Generation LGA1151 CPU (6 Core/ 6 Threads)
Discover the Power of the Intel Core i5-9400 9th GEN Processor: Unleash lightning-fast performance and seamless multitasking with this cutting-edge CPU. Designed to meet the demands of today's digital world, the Intel Core i5-9400 offers a perfect balance of speed and efficiency. Whether you're gaming, content creation, or tackling everyday tasks, this processor delivers exceptional results. Experience smooth computing with impressive power efficiency and advanced technology. Upgrade your system and elevate your computing experience with the Intel Core i5-9400 Processor. The Intel Core i5-9th GEN  Features Enhanced Speed-step Technology. Which can enable the Intel Core i5-9400 to adjust its voltage and core frequency to decrease overall power consumption. This can also help to lower overall heat production and provide a balance between providing power and conserving power. With Intel Virtualization, your one hardware platform can function as multiple virtual platforms.
You can increase your system's power, efficiency, and lifespan with the Intel Core i5 9th GEN Processor. This quality product features Intel's 14nm lithography process, which can lead to a markedly low power draw of 65 watts. With low power comes low CPU heat, which in turn can translate to a longer system life. Its 9MB Intel Smart Cache Memory and a front side bus speed of 8GT/s can keep your system responsive. This Intel Core i5-9400 has 6 execution cores that can enable the execution of parallel threads or applications to be on completely separate cores. It means that it has an impressive system response when multi-threaded or multiple applications are running simultaneously. The i5-9400's specialized Hexa core micro-architecture can optimize thermal performance, which can lead to reduced power consumption and noise, which can make it a great choice for both home and office use.
Special Note :
1. This processor is compatible only with Intel 300 Series LGA1151 V2 motherboards.
2. Use This Processor with Proper Cooling solutions for best results & Performance.
3. Cooling Components E.g. FAN & Heat-sink are not included with this and sold separately.
4. It is a 100% Working & Tested Refurbished Desktop PC processor & is Not for Laptop.
Delivery time: 2-7 Business Days
Warranty: 90 Days Testing & Replacement Warranty.
Return Policy: Returns Accepted in original condition within 10 Days From the Date of Delivery As mentioned in Our T/C and Policy.
FREE SHIPPING WITH 100% MONEY BACK GUARANTEE IF ITEM NOT DELIVERED*
| | |
| --- | --- |
| VARIENT | i5-9400F (Without Graphics), i5-9400 (With Integrated Graphics) |
Model : Intel Core i5-9400 9th Generation Processor
Core Count: 6 / Thread Count : 6
Clock Speed: 2.9 GHz / Max Turbo Frequency: 4.1 GHz
Intel Smart Cache: 9 MB- DMI: 8.0 GT/s
Lithography: 14 nm / Socket: LGA 1151 V2
Max Thermal Design Power: 65 W / Max Memory Bandwidth: 41.6 GB/s
Graphics Base Frequency: 350 MHz- Graphics Max Dynamic Frequency: 1.05 GHz
Advanced Technologies: – Intel Turbo Boost 2.0 Technology – Intel vPro Technology – Intel Virtualization Technology (VT-x) – Intel Virtualization Technology for Directed I/O (VT-d) – Intel Trusted Execution Technology – AES New Instructions – Intel 64 Architecture – Intel Anti-Theft Technology – Idle States – Enhanced Intel SpeedStep Technology – Thermal Monitoring Technologies – Execute Disable Bit – Intel VT-x with Extended Page Tables (EPT)
FOR MORE DETAILS PLEASE VISIT INTEL OFFICIAL PRODUCT PAGE