-

₹

655.00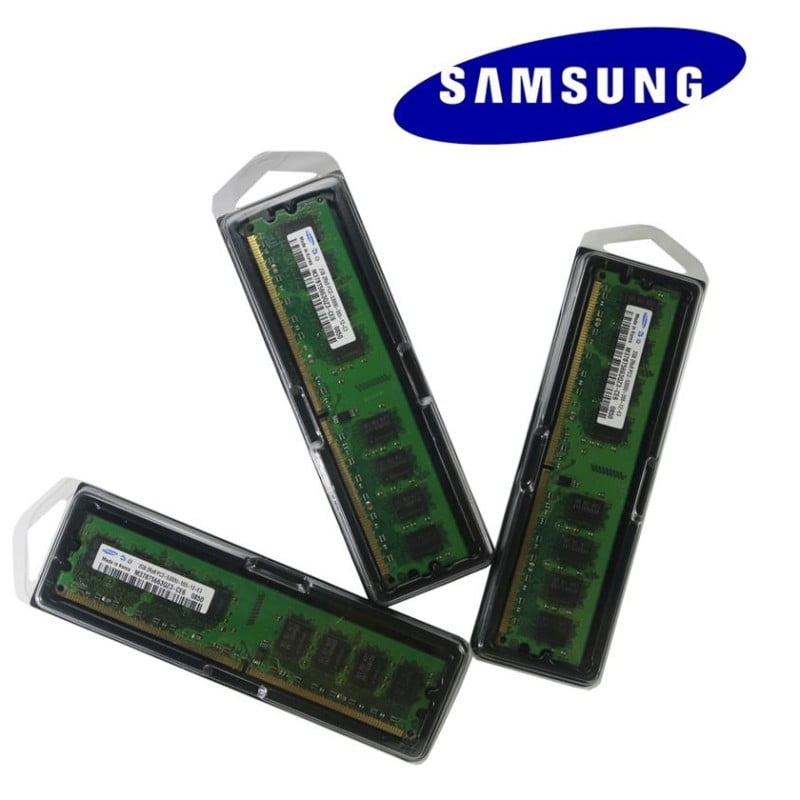 SAMSUNG 4GB-8GB 240-Pin DDR3 RAM Desktop
Free Shipping and Replacements, Easy Returns Within 10 Days.

Cash On Delivery [COD] Options Available Across India.

RAM Module of 1333 / 1600 MHZ DDR3 Memory
240-Pin Non-ECC Unbuffered DIMM From the industry leader in PC Memory
Specifically designed and tested for compatibility in various devices.
VDDQ = 1.5V (1.425V ~ 1.575V) and Bi-directional Differential Data Strob.
Note: This is a 100% Original Brand New Desktop DDR3 RAM Comes with Up to 3 years warranty. Laptop RAM Also Available BUY HERE
Please Chat with us / Email Support or Message us at our Facebook/ Instagram page if you have any questions, query or concern.
100% Brand New Desktop DDR3 RAM
₹655.00 – ₹1,474.00
Description
SAMSUNG 4GB / 8GB 240-Pin DDR3 RAM For Desktop
SAMSUNG DDR3 RAM For Desktop
Original RAM For Desktop, the industry leader in PC memory. Designed with the white box user and system integrator in mind, These RAM products are engineered to meet industry standard specifications and rigorously tested to ensure quality. This RAM is ideal for those who purchase memory by spec and are looking for competitively priced generic memory that is 100-percent tested to meet industry specifications. With its reliable performance and easy installation, upgrading to DDR3 Desktop RAM is a cost-effective way to enhance the overall functionality and performance of your Computer. Upgrade your RAM and experience faster and more efficient computing.
With its high-speed data transfer rates and large storage capacities, DDR3 RAM can significantly boost the speed and efficiency of your Computer, allowing for faster and smoother multitasking and application performance. Designed specifically for Desktops, DDR3 RAM is energy-efficient and runs cool, making it perfect for mobile computing.
Technical Specifications
Manufacturer: SAMSUNG
Memory Type: DDR3 SDRAM
Capacity: 4GB / 8GB
Connector Pins: 240 Pin
Bus Type: PC-12800
Error Correction: Non-ECC
Cycle Time: 1.25ns
Data Transfer Rate 1333 / 1600Mhz
Voltage: 1.5V
Special Note :
1. This is 4GB / 8GB 240-Pin DDR3 RAM For Desktop Devices Only.
2. It is a 100% Brand New Desktop Comes in Original Packaging Box.
3. Picture may not match actual product so Please ensure that your original part number matches this exactly.
4. Please Check with the manufacturer for compatibility, Customers are responsible for compatibility Related Issues.
Delivery time: 2 to 7 Business Days
Warranty: Up-to 3 Years Warranty as per manufacturer's terms.
Return Policy: Returns Accepted in original condition within 10 Days From the Date of Delivery As mentioned in Our T/C and Policy.
FREE SHIPPING WITH 100% MONEY BACK GUARANTEE IF ITEM NOT DELIVERED*
| | |
| --- | --- |
| VARIENT [Capacity] | 4GB, 8GB |
| WARRANTY | 1 YEAR [FREE], 3 YEAR [+199 Additional] |
For More Details & Specifications Please Refer Manufacturer's Website.